Otsuka Group's Environmental Policy
The Otsuka group of companies strives to advance as an essential company that contributes to the health of people worldwide. We will help to realize a sustainable society by always taking account of the global environment in the value chain as we pursue our business activities based on our trademark qualities of autonomy, proactiveness and creativity.
Guidelines
1. Carbon Neutrality


Play a part in controlling global warming by reducing CO2 emissions.

2. Circular Economy


Continue to improve resource efficiency and help create a zero-waste society.

3. Water Neutrality


Promote sustainable use of water through conservation, recycling and clean return.

4. Environmental Compliance


Continue to improve our environmental management system, increase effectiveness of compliance, and reduce risks.
The Otsuka Group's Materiality (Material Issues) and Related SDGs
Materiality
Social Issues
Our Goals
Our Activities
Related SDGs
Environment
(Healthier
Planet)
Carbon Neutrality※1

2028 targets : Reduce 50% in CO2 emissions compared to 2017

Reduce CO2 emissions throughout the value chain

Circular Economy※2

Environmental load increase

2028 targets : Reduce 50% in simple incineration and landfill disposal compared to 2019
2030 targets : 100% content of recycled and plant-based materials in our PET bottles

Reduce environmental impact by improving resource efficiency
Promotion of business activities aimed at a sustainable state in both society and the earth

Water Neutrality※3

Reducing freshwater availability

2028 targets : Expand the plant water management program to all locations globally
2028 targets : Develop a water use strategy for business locations in water-stressed areas

Understanding water resources risk
Management and effective use of water resources
※1 Sustainable energy use、※2 Sustainable use of raw materials、※3 Sustainable use of water resources
The Otsuka group has established a 2050 Environmental Vision of net zero. The vision aims to reduce the total environmental impact of our business activities to zero. Based on this vision, the Otsuka Holdings Environmental Committee has set medium-term goals in the three material issues carbon neutrality, circular economy, and water neutrality. These goals are in line with the period of the Otsuka Holdings Mid-term Management Plan.
Going forward, the group will work together toward the realization of a decarbonized society, and ultimately a sustainable society, raising awareness and understanding of environmental issues by conducting environmental training for employees and generating synergy through collaborations between group companies.
Environmental Management System
The Otsuka Group Sustainability Promotion Committee was established in 2018 and is chaired by the director in charge of sustainability promotion at Otsuka Holdings. The committee promotes sustainability for the entire Otsuka group, acting as an engine for discussions and decision-making regarding the direction of sustainability-related activities, plans, and other measures. Committee meetings are held regularly to discuss direction and evaluate activities, develop systems in each area of sustainability promotion, and update promotion plans, as necessary. Committee members comprise group officers in charge of various areas such as supply chain, environment, human resources, corporate governance, compliance risk management, and public relations. The Committee, together with persons in charge from group companies, carries out close examination, with the Sustainability Promotion, IR and Corporate Planning Departments of Otsuka Holdings functioning as the secretariat.
Otsuka Group Environmental management system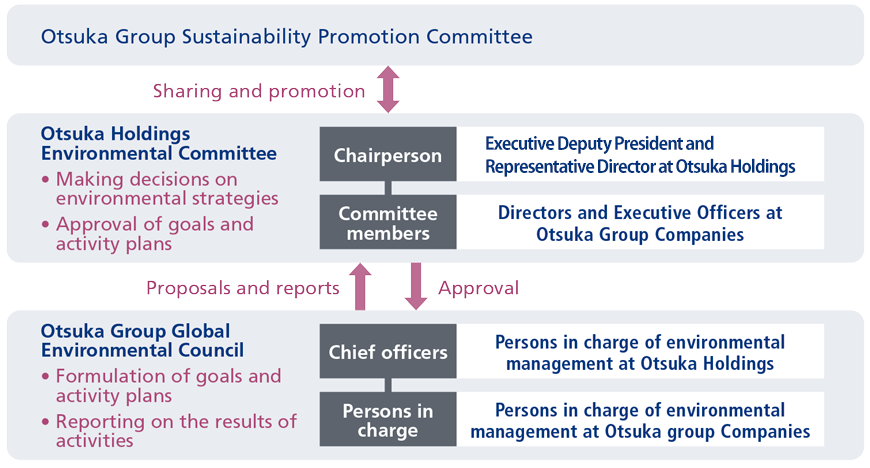 Environmental management system
Acquisition of Integrated ISO 14001 Certification for the Otsuka Group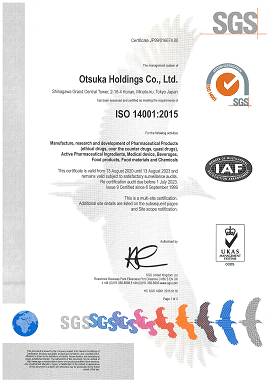 The Otsuka group's first ISO14001 certification was acquired in 1999.1 Since then, we have worked to acquire certification for the manufacturing sites of each group company, and promoted activities to achieve the environmental goals set by each company.2 With the increasing severity of environmental issues in recent years, companies are being called upon to contribute to the resolution of such issues. To strengthen group-wide efforts toward more efficient and effective environmental activities, the Otsuka group's five of major companies in Japan3 and Otsuka Holdings as the supervising organization acquired ISO 14001 integrated certification in August 2020. Under the integrated environmental goals and management systems outlined in the certification, we will further strengthen our environmental initiatives and make group-wide efforts to achieve the goals.
1

Acquired at Tokushima Factory of Otsuka Chemical (present Tokushima Factory of Otsuka Chemical and Tokushima Factory of Otsuka Foods)

2

Acquired certification at 9 companies in Japan and 11 overseas (As of August, 2020)

3

Otsuka Pharmaceutical, Otsuka Pharmaceutical Factory, Taiho Pharmaceutical (including its subsidiary, Okayama Taiho Pharmaceutical), Otsuka Chemical, and Otsuka Foods