Business Overview
Therapeutic drugs

Clinical nutrition

Diagnostics

Medical devices
Revenue¥977.5 billion*
Business profit¥139.9 billion
*Revenue includes intersegment revenue and transfers
Otsuka focuses on the fields of psychiatry, neurology and oncology as priority areas under the theme of addressing unmet medical needs. In addition, by working in a wide range of other fields and businesses including the cardiovascular and renal system, digestive system, ophthalmology, diagnostics, intravenous solutions and medical devices, we provide comprehensive healthcare services from diagnosis to treatment.
Initiatives in the Pharmaceutical Business
Psychiatry and Neurology
Aiming to become a top-class global player in the psychiatry and neurology area, with a high-potential pipeline and product portfolio
Psychiatric diseases such as schizophrenia, bipolar disorder, and major depressive disorder can develop at any age and affect a person's social life, career, and studies. Moreover, concerns are growing about the increasing frequency of Alzheimer's-related dementia as populations worldwide continue to age. These diseases affect not just the patient's quality of life; they also place a strain on family members and caregivers, as well as on the healthcare economy. There are still many psychiatric and neurological diseases for which satisfactory treatments have yet to be established. This is because their causes and mechanisms are not fully understood, which makes the discovery of new drugs extremely difficult. The Otsuka group entered the psychiatry and neurology area in the 1970s and has continued to take on the challenge of new drug discovery with the goal of contributing to medical needs.
We have a high-potential pipeline and product lineup, and aim to become a top-class global player in this area.
Oncology
Maximizing business value by combining group strengths
Maximizing business value through proprietary drug discovery platforms and initiatives for new drug discovery technologies and methodologies Taiho Pharmaceutical has a broad portfolio supported by its proprietary drug discovery platform technologies, including proprietary biochemical modulation technology uniquely developed its history, as well as the Cysteinomix drug discovery technology 1 enabling specific covalent modification of therapeutic targets, and fragment-based drug discovery technology2 established by Astex Pharmaceuticals. The company is also accelerating development of drugs to resolve unmet needs, working with pharmaceutical collaborators. Furthermore, it looks for opportunities for collaboration with promising startups through corporate venture capitals, thereby expanding its development pipelines in cancer immunotherapy and other areas, and acquiring innovative drug discovery platform technologies.
Meanwhile, centering on external collaborations, Otsuka Pharmaceutical is taking on the challenge of establishing new therapies with a focus on the future. This includes creating synergies with new modalities, in areas such as gene-modified T cell therapies.
Individual group companies are combining their accumulated assets in their fields of their strengths to bolster global operations and enhance business value. 1. Platform for discovering compounds that cause specifically from a covalent bonding with reactive amino acid residues (mainly cysteine residues) of protein as potential drug target proteins 2. Technology to create new compounds through molecular design. It clarifies interactions between small-molecular fragments showing pharmacological activity that cannot be measured in high-throughput screening and large molecule proteins with complicated 3D structures that have been implicated in diseases and are potential drug targets.
Cardiovascular and Renal System
Creating first-in-class products through new drug discovery technologies and medical devices In the cardiovascular and renal area, in addition to strengthening our proprietary drug discovery platforms, we also plan to actively make growth investments, examples of which have included our business alliances with Akebia Therapeutics for vadadustat and with Aurinia Pharmaceuticals for voclosporin, and the acquisition of Visterra, a company with a renal disease-related pipeline.
Otsuka group also strive to find solutions to unmet needs which are not resolved by drugs. We are advancing development of unique medical devices, drawing on our innovative technology and our strengths in drugs and clinical research. Ultrasound renal denervation treatment is a new therapy expected to decrease high blood pressure in cases that cannot be effectively treated with existing drugs, and our ultrasound renal denervation system has Breakthrough Device Designation from the U.S. FDA. We will aiming to create first-in-class products through new drug discovery technologies and medical devices.
R&D Pipeline
An overview of the Otsuka group's R&D pipeline.
Major R&D Sites
The Otsuka group has built a network of R&D sites worldwide, developing a global structure for the research and development of innovative new products to aid in the treatment of diseases and support day-to-day health.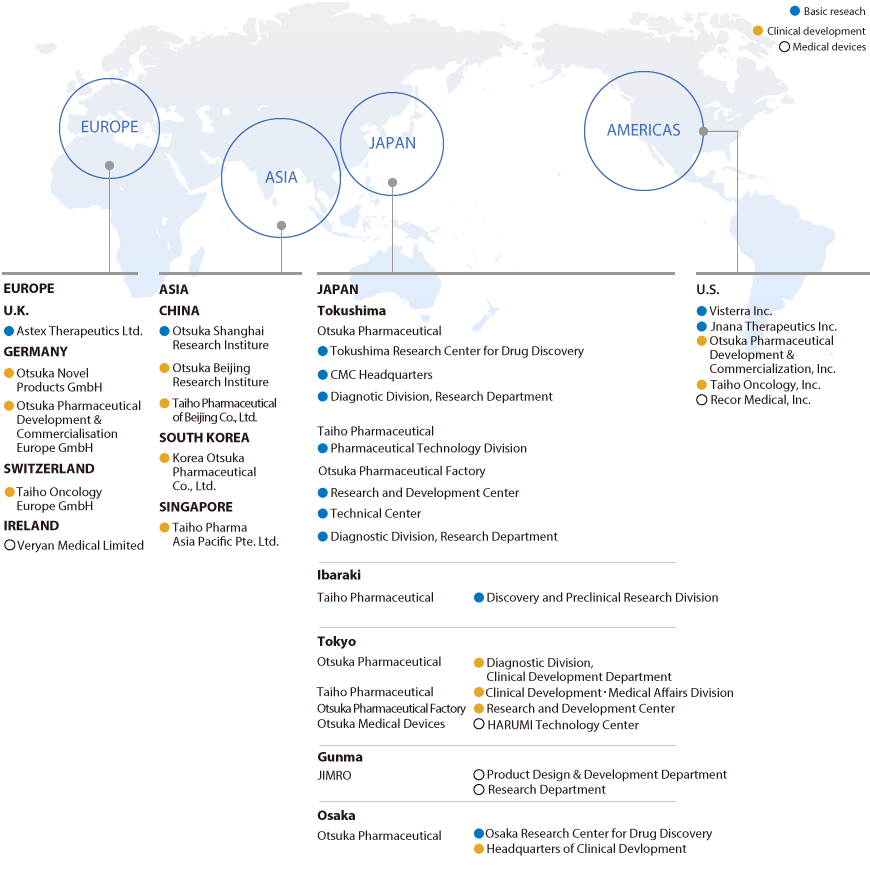 Tokushima Research Institute (10th Research Center),
Otsuka Pharmaceutical

Tokushima Research Institute (Hi-z Tower), Otsuka Pharmaceutical
Group Company R&D Websites