Group-wide Cooperation to Ensure Stable Supply of High-Quality Products
Basic Policy
Production departments at the Otsuka group employ a traceability system covering all stages of the supply chain, from raw material procurement to production, distribution, and sales, thereby enabling thorough management throughout the entire supply chain.
Promotion System
At the Otsuka group, we aim to maintain a stable supply of high-quality products. To that end, our production departments practice stringent production management that facilitates the tracing of products throughout the entire supply chain, from the procurement of raw materials through production and distribution to sale.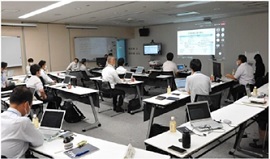 To share information, hold discussions, and implement technical improvements groupwide, managers and staff from Otsuka group factories around the world come together for the Global Production Meeting , which has been held for over 30 years. This meeting leads to new activities that leverage the strengths of the Otsuka group in conducting broad-ranging business activities, including promoting information exchanges among companies.
For day-to-day production, we know the importance of reflecting on and learning from past performance, and for that reason we have held "Manufacturing Errors" Workshops twice a year since 2017. These meetings bring together representatives of group company production departments from Japan and around the world, and are an ideal opportunity to share and learn from case studies on manufacturing errors from each company.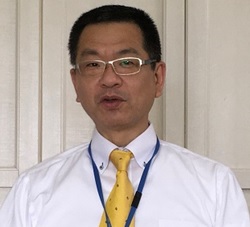 Ryo Harima
Vice President
Deputy General Manager,
Production Headquarters,
Otsuka Pharmaceutical Co., Ltd.
Over 30 Years of Technical Exchange at the Global Production Meeting
The Global Production Meeting returned in fiscal 2021 after a gap of two years due to the COVID-19 pandemic. The 2021 meeting was held online under the theme "New Forms of Production," and 148 employees and executives from 14 countries/regions participated. Case studies were presented, including reports on remote support for the launch of a new overseas plant and the use of an analysis system for big data used in production. The participants exchanged views, and joined the ceremony for the 2021 Production Awards, which recognize outstanding production achievements.
Education system
At the Otsuka group, production departments formulate an annual education plan for each production site, provide training on health and safety and good manufacturing practices, as well as regular training on business continuity planning (BCP) and compliance.
Employee proposals for improvement
Every company in the Otsuka group works hard to make unique proposals for improvement. As an example, for 40 years Otsuka Pharmaceutical Factory has invited employees to submit proposals related to creativity, with the most useful proposals being adopted and implemented. This system leads to company improvements and raises employees' awareness of creativity. The event continues to spark interest even today. This fiscal year, three employees received the Award for Creativity* for 2022 given by the Minister of Education, Culture, Sports, Science and Technology (MEXT).
Kazuma Miyamoto
PG Department, Naruto Factory, Manufacturing Division
Otsuka Pharmaceutical Factory

Junya Masamori
MP-V Department, Matsushige Factory, Manufacturing Division
Otsuka Pharmaceutical Factory

Shuto Sekimukai
Engineering Department, Kushiro Factory, Manufacturing Division
Otsuka Pharmaceutical Factory
*This award from MEXT recognizes the achievement of remarkable results in R&D as well as promoting the understanding of science and technology. The Award for Creativity is given to those who have contributed to technology improvements with outstanding creativity in their field. Employees at Otsuka Pharmaceutical Factory have received these awards for 13 consecutive years.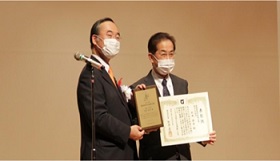 Also, this year marked the tenth anniversary of Otsuka Chemical's Kaizen Activities, in which employees submit proposals for improvements with the goal of creating a pleasant work environment through safety and security. The company was also awarded the 7th Tokushima Prefecture Science and Technology Award in the creativity category for significant cost reductions by proposing and implementing business improvements. Examples of improvements are given awards and this information is shared online.