Basic Policy
The Otsuka group recognizes that ensuring safety and health across all of its business activities is an important element of the management. This recognition is based on our corporate philosophy of "Otsuka-people creating new products for better health worldwide." Accordingly, we strive to ensure all workplaces are safe and healthy, including by offering education and training for all concerned.
Otsuka Group Health and Safety Policy
Based on our recognition that ensuring safety and health is an important element of the management, we are committed to ensuring that each and every one of us proactively engages in safety and health activities, and we work together to create safe, healthy, and comfortable workplaces across the entire group.
We comply with the relevant laws and regulations of each country and region, as well as the voluntary management standards of each company and site.
We strive to prevent the expansion of damage and/or recurrence of accidents by practicing ongoing risk reduction activities such as forecasting, ascertaining, and periodically reviewing dangerous and hazardous factors, responding promptly and appropriately in the event of an emergency such as an industrial accident, and subsequently sharing lessons learned within the organization.
We request an understanding of our Policy and the promotion of health and safety awareness by all the business partners of the Otsuka group (including contractors, and suppliers, etc.)
Group-wide targets
■Goals of health and safety action plan
・Zero occupational accidents
■Progress
・Rate of occupational accidents: 0.70 (2021 result)
・Severity of occupational accidents: 0.02 (2021 result)
Promotion System for Health and Safety
To help create safe, secure workplaces at factories and other business sites at every group company in Japan, we have established safety and health committees, as defined in the Industrial Safety and Health Act. We carry out workplace health and safety inspections, as well as other necessary activities to ensure effective management of health, operations, and the workplace environment, in addition to related education and training. These activities are reported at health and safety committee meetings and form the basis for improvements to the workplace environment.
Further, major group companies hold a joint group health and safety meeting every year to share reports on workplace accidents and recurrence prevention measures. Moreover, for over 30 years, the Global Production Meeting has been held with the aim of improving production technologies and sharing information group-wide. In fiscal 2021, this meeting was held online after a two-year absence due to the COVID-19 pandemic. The meeting had approximately 148 participants including management executives from 14 countries and regions for discussion on new models of production.

Since each group company employs a different promotion system, the one for Otsuka Pharmaceutical is shown here.
Otsuka Pharmaceutical's Promotion System for Health and Safety (Production Division)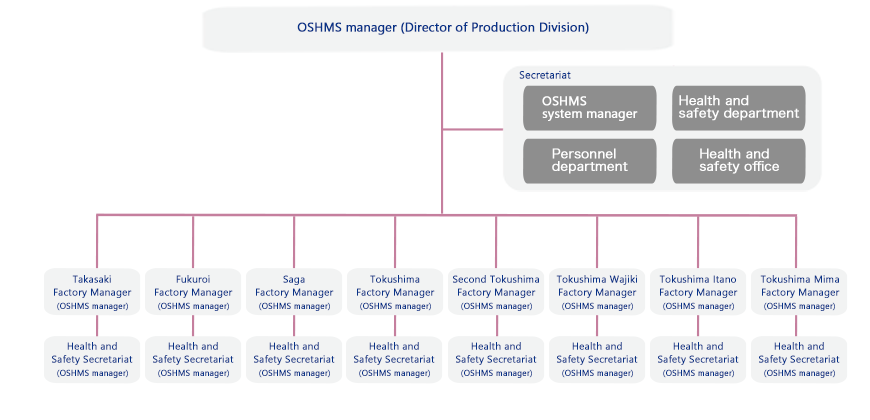 Otsuka Pharmaceutical has established an OSHMS* and will continue to improve the workplace environment based on company-wide policies.
*OSHMS (Occupational Safety and Health Management System) is a set of measures for safety and health management aimed at preventing occupational accidents, promoting the health of workers, creating a comfortable work environment and improving the safety and health standards of workplaces. These objectives are achieved by establishing a series of procedures and voluntarily conducting ongoing safety and health management based on a PDCA (plan-do-check-act) cycle implemented by a business with the cooperation of employees.
Approach
Evaluating and Addressing Risk
Safety and health committees have been established at locations where they are legally required. These committees meet regularly to discuss safety and health and how to maintain a safe work environment. In addition, information is shared on risk assessments at regular meetings to identify sources of risk.
For example, Otsuka Pharmaceutical conducts annual risk assessments to identify occupational health and safety issues at business sites. Risk assessments are used to find potential dangers or hazards in the workplace and to eliminate or reduce them. For each issue identified, we provide a written follow-up on the measures we implemented. We confirm that the risk has been mitigated in the risk assessment in the following fiscal year. In addition, we are working to reduce occupational health risks and improve the workplace environment by sharing information on social demands and onsite problem awareness, led by the person in charge of health and safety.
Status of Occupational Accidents
2020
2021
Rate of occupational accidents
Severity of occupational accidents
Rate of occupational accidents
Severity of occupational accidents
Otsuka group
1.11
0.00
0.70
0.02
Industry-wide
1.95
0.09
2.09
0.09
The Otsuka group shares examples of occupational accidents that have occurred at group companies (production and research departments) through meetings held to exchange information on safety and health.
Communication Beyond the Company
Otsuka Pharmaceutical conducts a range of programs both inside and outside the Company to promote workplace health and safety. One example is an annual meeting to share workplace health and safety information with partner companies.
Occupational Health and Safety Information Exchange Meeting
*Not held in 2020 due to the COVID-19 pandemic.
| | Topic |
| --- | --- |
| 2019 | 15th "Safety and health activities in the first year of work style reform: Contributing to productivity improvement and health management" |
| 2020 | 16th "Stress countermeasures amid new lifestyles: How to cope (Webinar)" |
Supplier Occupational Safety and Health
The Otsuka group recognizes the importance of ensuring occupational safety and health at suppliers in the Otsuka Group Sustainable Procurement Guidelines. Specifically, we request that they respect human rights, ensure a safe, hygienic and comfortable work environment, and consider the health of employees. We hold briefings every year to help our suppliers understand the detailed content of the guidelines and have received written consent from all suppliers stating agreement with their objectives. The Otsuka group will continue to work together with suppliers to ensure occupational safety and health.
Company Involvement in Commitments to Labor Standard Initiatives or Frameworks
Example: Tokushima
- Tokushima Labor Standards Association (Otsuka Pharmaceutical, Taiho Pharmaceutical, Otsuka Warehouse, Otsuka Chemical, Otsuka Foods, etc.)
Regional association: Tokushima Labor Standards Association Union Meeting
- Naruto Labor Standards Association [Otsuka Pharmaceutical, Otsuka Pharmaceutical Factory, etc.]
- Anan Labor Standards Association [Otsuka Pharmaceutical, Otsuka Techno]
- Miyoshi Labor Standards Association [Otsuka Pharmaceutical]
Improvement Case Study
Otsuka Chemical, which handles chemical substances, conducts various workplace safety initiatives. Major initiatives include a system for swift information sharing on issues related to factory operations among all domestic and overseas locations, as well as regular reporting of group safety at Board of Directors meetings. Another key initiative is Anzen Dojo, an experience-based safety training center which opened in 2012 as part of measures to prevent occupational accidents. The center runs training programs aimed at improving safety awareness for group employees, employees of overseas affiliates, and third parties. Through classroom instruction and simulations of past accidents, the center reinforces lessons from failures and safety knowledge, sharpens awareness of danger, and develops the ability to identify potential risks. In recognition of its activities to improve health and safety education and establish a safety culture through Anzen Dojo, Otsuka Chemical received an RC Outstanding Award from the Japan Chemical Industry Association at the 8th Annual Responsible Care Awards in 2014.