Raising Awareness of Heat Disorders and the Importance of Replenishing Fluids and Electrolytes
Founded as a chemical raw material manufacturer in 1921, the Otsuka group launched its intravenous solutions business in 1946. Leveraging expertise cultivated in the intravenous solutions business, we developed POCARI SWEAT as a beverage that replenishes the body's fluids and electrolytes, which are important for maintaining and improving day-to-day physical health. Later, in 1992, we participated in the Japan Amateur Sports Association (now Japan Sport Association (JSPO)) Study Group for Prevention of Heat Disorders in Sports Activities, and began full-fledged activities to raise awareness of heat disorders and their prevention. Since then, we have used scientific evidence to raise awareness of the importance of fluid and electrolyte replenishment in various aspects of life.
This brings us to the present day. The pathology of heat disorders, which was not well known in those early days, and the concept of supplying electrolytes together with fluids as a countermeasure, are now widely understood and recognized throughout society. POCARI SWEAT has become a popular staple in all kinds of situations where people sweat, including sports, commuting, outdoor work, and after a bath or waking up. Today, we continue to promote awareness of the importance of replenishing fluids and electrolytes in various contexts, including children's sports activities, occupational safety and hygiene, and hydration for the elderly.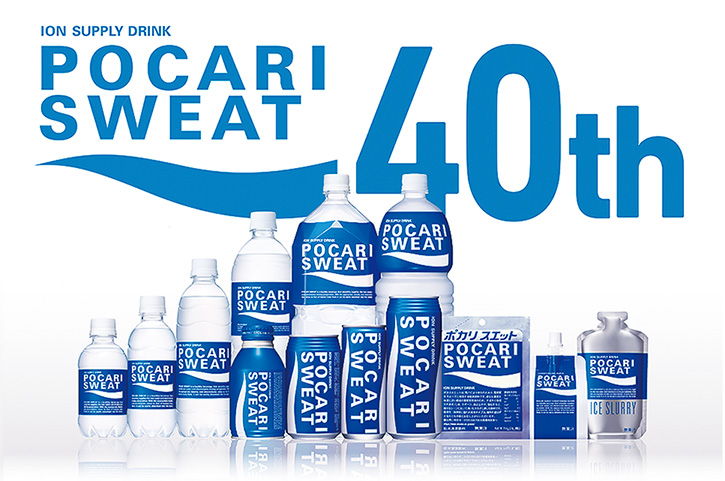 POCARI SWEAT is a health beverage that easily replenishes the body with fluids and electrolytes lost due to perspiration. When people sweat to regulate their body temperature, they lose electrolytes along with fluids. Just drinking water may upset the balance between fluids and electrolytes, which can negatively affect physical condition and performance. Proper hydration is necessary. As a beverage that is similar to fluids already present in the human body, POCARI SWEAT enables efficient fluid replenishment.



1. One unit equals 340 ml;
units sold includes overseas sales

Began cooperation with Japan Amateur Sports Association2 Study Group for Prevention of Heat Disorders in Sports Activities

2. Now Japan Sport Association (JSPO)

Began cosponsoring JSPO heat disorder prevention awareness activities and cosponsored production of A Guidebook for the Prevention of Heat Disorder in Sports Activities (First Edition)

Began cosponsoring production of a guidebook on heat disorder prevention, based on the Guidelines for Prevention of Heat Disorders in Everyday Life (Ver. 1) published by the Japan Society of Biometeorology

Conducted lectures on hydration for 500,000 members of junior sports clubs nationwide as part of the Sports Activities Campaign

Commenced activities at public and other health centers across Japan to raise heat disorder awareness among seniors

Co-sponsored production of the Heat Disorders Prevention website (NPO Weather Caster Network)

Began Live On Seminar as a lecture for industrial physicians and public health nurses, nurses, nutritionists, and health and safety staff working at business offices in Japan

Received Best Communicator and Top Runner Award at the Heatstroke Prevention Communication Project Hitosuzumi Awards 2016

Participated in the reprinting of the Ministry of the Environment's Environmental Health Manual on Heat Disorders

Why POCARI SWEAT Continues to Create New Value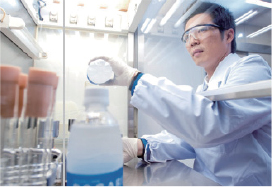 Situations in which the body becomes dehydrated are various, and are not limited to any particular time or place.
Otsuka Pharmaceutical's marketing of POCARI SWEAT includes activities to raise awareness of the importance of hydration in more than 20 countries/regions around the world.
POCARI SWEAT continues to create new value—meeting the challenge of changes in the environment and people's values, and social diversification. This is because POCARI SWEAT continues to be closely intertwined with people's lives, and to uncover and address underlying issues. As a science-based solution for universal needs, it generates value that leads to better health and better lifestyles.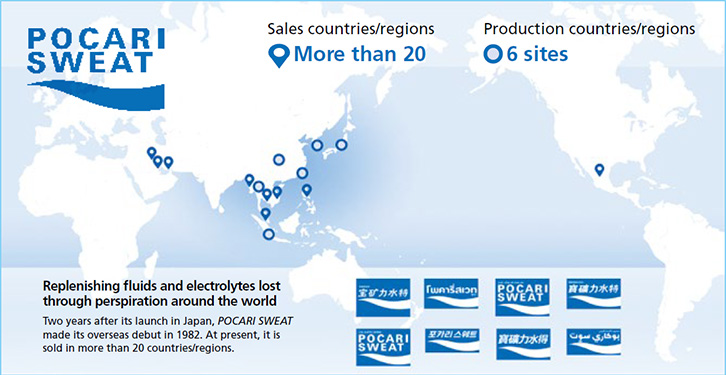 The World POCARI SWEAT Aims to Create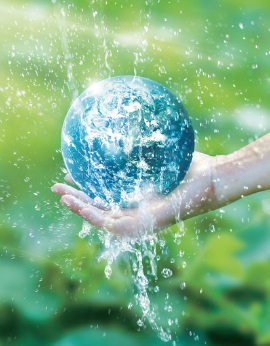 Global warming is having a major worldwide impact on climate and the natural environment, as well as people's lives. Should global warming continue, as many as 1.2 billion people could be at risk of heat disorders every year by the year 2100. Also, it is estimated that due to the expansion of habitats conducive to the propagation of organisms that carry tropical diseases, including Zika fever and dengue fever, the number of people at risk of infection could increase by 383–725 million by 2050.* Meanwhile, the importance of and proper methods for fluid and electrolyte replenishment as "first aid" for heat disorders and tropical disease infection have not yet become globally recognized.
We explore and identify underlying issues in each country, consider solutions, convey the scientific grounds and encourage consumers to try POCARI SWEAT. Through simple measures such as these, we contribute to the health of people worldwide.
Fluids and electrolytes are essential to life. Our vision is to use our enduring spirit of inquiry and our ability to flexibly address the needs of a diversifying society to make POCARI SWEAT a health beverage like no other.
Around the world, there are many people who have difficulty maintaining their health because they lack access to a quality source of hydration. POCARI SWEAT aims to change the world by being an industry leader and contributing to solving social issues.
* Daniel Li et al., Environ Res Lett 2020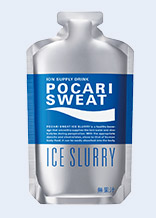 Otsuka Pharmaceutical's Saga Nutraceuticals Research Institute gathers various kinds of evidence through clinical trials on the replenishment of fluids and electrolytes under various conditions.
In 2018, leveraging our expertise from research into heat disorders, we launched POCARI SWEAT ICE SLURRY. We developed this product using proprietary technology for creating a formulation that freezes in the form of ice slurry (in which solid particles are dispersed in a liquid), which is known for its high cooling properties. This "drinkable ice" efficiently cools the body from its core, and offers people a new option for combating heat disorders when active in hot environments.
*This page is reprinted from Otsuka Holdings Integrated Report 2019.