Initiatives for Yet-To-Be-Imagined Needs
The term "nutraceuticals" was created by combining the words "nutrition" and "pharmaceuticals." It was coined in 1989 in the U.S. by Dr. Stephen L. DeFelice and refers to foods and beverages with benefits that have a scientific basis, and which contribute to the maintenance of everyday health. Our range of nutritional products fit this definition well, which led us to adopt the term to describe our science-based foods and beverages that help maintain and promote day-to-day health. To be healthy is a universal desire of people worldwide. While advances in medical technology and improvements in public health have extended life expectancy globally, new health issues such as population aging and lifestyle diseases have also arisen. The Otsuka group's Nutraceutical Business is centered on functional beverages and functional foods that support the maintenance and improvement of day-to-day health. Utilizing expertise honed in our Pharmaceutical Business, the innovative, science-based products we develop enable people worldwide to live healthier, more active lives. Furthermore, we engage in health awareness activities as part of our initiatives to expand access to nutrition.
Health Maintenance and Improvement Initiatives in Coordination with All 47 Prefectures of Japan
Amid trends including medical cost inflation and the aging of Japan's population, the Otsuka group is promoting community-based health maintenance and improvement initiatives, as well as disaster prevention and relief activities. Otsuka Pharmaceutical has concluded health-related partnership agreements with all 47 prefectures of Japan. We are cooperating with local governments to find solutions to the health issues of people living in each region, which includes applying our knowledge and expertise on topics such as dietary education, prevention of lifestyle-related diseases, prevention of heat disorders, sports promotion, women's health and disaster countermeasures.
Raising Awareness of Proper Hydration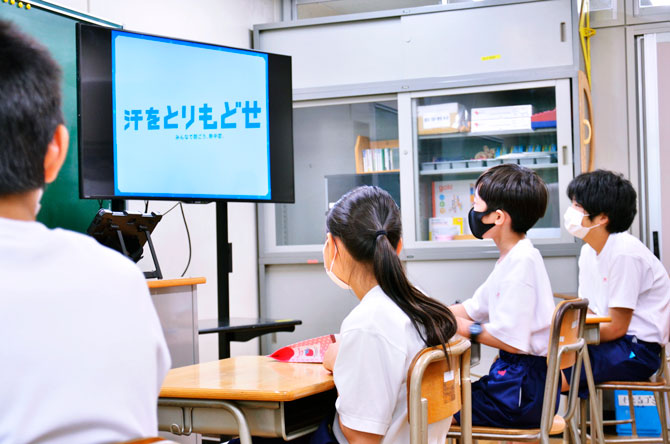 Since the launch of POCARI SWEAT, Otsuka Pharmaceutical has been promoting the importance of hydration in various contexts. Spurred by the establishment of the Japan Amateur Sports Association (now Japan Sport Association (JSPO)) Study Group for Prevention of Heat Disorders in Sports Activities in 1991, we began cooperating in efforts to prevent heat disorders through awareness activities in 1992. Since then, we have provided information on such themes as children's sports activities, occupational safety and hygiene, and hydration for the elderly. Otsuka Pharmaceutical's website includes an information section titled Protect Yourself From Heat Disorders and a section presenting content based on JSPO's A Guidebook for the Prevention of Heat Disorder During Sports Activities (First Edition). Another initiative is the Heat Disorders Prevention website, which was created in collaboration with weather forecasters. Through these and other activities, we are further raising awareness of the topic.
Raising Awareness of Women's Health
The average life expectancy in Japan is over 80 years for both men and women. Healthy life expectancy is defined as the period in which a person can live without being bedridden and without limitation to daily activities due to health issues. The difference between average life expectancy and healthy life expectancy is about 9 years for men and 12 for women in Japan. Therefore, extending healthy life expectancy is a central issue under the Health Japan 21 (the second term) plan established by the Ministry of Health, Labour and Welfare. In response, the Otsuka group developed a product containing equol, a soy-derived ingredient that functions in a similar way to the female hormone estrogen. It can help maintain and improve the health of women at a time when they can experience a range of mental and physical changes. Based on expertise obtained during the R&D process, we conduct activities to spread accurate understanding of the mental and physical changes experienced by women and related health issues, as well as solutions to those issues and evidence for the efficacy of equol. A wide range of other information on nutrition in relation to women's health and other topics can be found on the Otsuka Pharmaceutical website.
Nutritional Support and Helping Families Fill Nutrition Gaps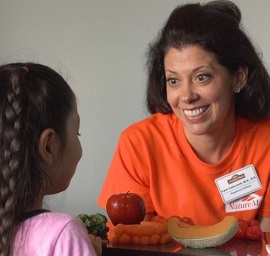 Pharmavite, which is based in the U.S. and handles the development and sales of Nature Made products, has partnered with the non-profit organization Feed the Children to provide products and support for health over three years. Through this partnership, the company has donated approximately 15 million children's chewable multivitamins. Each family received a two-year supply of children's vitamins, reaching 8,800 families in total.
In addition, Nature Made registered dietitians provided on-site nutritional education to families on how to compensate for nutritional deficiencies.
Conveying the Importance of Nutrition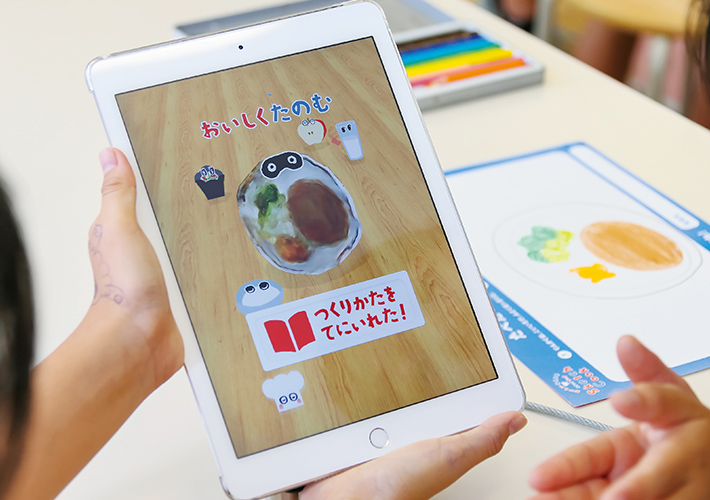 We continue to conduct dietary education activities that explain the importance of nutrition, based on expertise gained through product development of nutritional products. Our activities are aimed at all generations. For children, our app SketchCook helps teach proper dietary habits and knowledge of nutrition in a world where such information can be difficult to acquire. For busy modern adults, we provide, in Japan, Nature Made Supplement Check, an app that allows users to easily analyze the nutritional content of a meal by taking a smartphone picture.
Learning the SDGs through Plant-Based Foods
The Otsuka group has released plant-based soy meat products that are free of ingredients derived from animals. Plant-based foods have been gaining attention as sustainable products with less environmental impact than animal products. We have co-produced teaching materials titled "Learning the SDGs through Plant-Based Foods" with Gakken Plus Co., Ltd. to support education on the United Nations' Sustainable Development Goals (SDGs) for elementary school children, who will be the leaders of the next generation. In addition, the Daizu Meat Lab provides information on the appeal of soy meat through columns, recipes, and news.