The Otsuka group contributes to regional development by working together with local residents on social and cultural projects.
Cultural Promotion
The Otsuka Museum of Art
Sistine Chapel, The Otsuka Museum of Art

The Last Supper, The Otsuka Museum of Art
To commemorate the 75th anniversary of our founding, we opened The Otsuka Museum of Art in Naruto City, Tokushima Prefecture, the birthplace of the Otsuka group of companies. This museum is one of the largest permanent exhibition spaces in Japan,* and houses over 1,000 ceramic reproductions of major works of Western art. Otsuka Ohmi Ceramics used special techniques to make actual-size ceramic reproductions of various works of art, from ancient wall paintings to modern paintings, originally exhibited in around 190 art museums in 26 countries. It is typical for original artworks to become discolored or to deteriorate due to environmental pollution, or sometimes even to suffer more extensive damage from disasters such as earthquakes or fires, but these ceramic reproductions should maintain their original color and shape for more than 2,000 years.
This unique approach of creating ceramic reproductions of masterpieces has incorporated many creative and unique ideas. For instance, the six parts of El Greco's "Santo Domingo el Antiguo Altarpiece" cannot usually be seen together at one time. However, our approach to creating a reproduction of this famous altarpiece has made it possible. We have also created a comparative exhibition of The Last Supper by Leonardo da Vinci, where visitors can see it before and after its restoration. Furthermore, we chose to exhibit our reproduction of Monet's The Water Lilies outdoors to fulfill the painter's wish that it be viewed in natural light. The museum has received many positive reviews from visitors from inside and outside Japan. The Otsuka group will continue to promote art and culture in the local community through the museum and its creative technologies and unique ideas.
* Total floor space: 29,412 m2
Activities in Tokushima, the Birthplace of the Otsuka Group of Companies
The Traditional Culture of the Awa Odori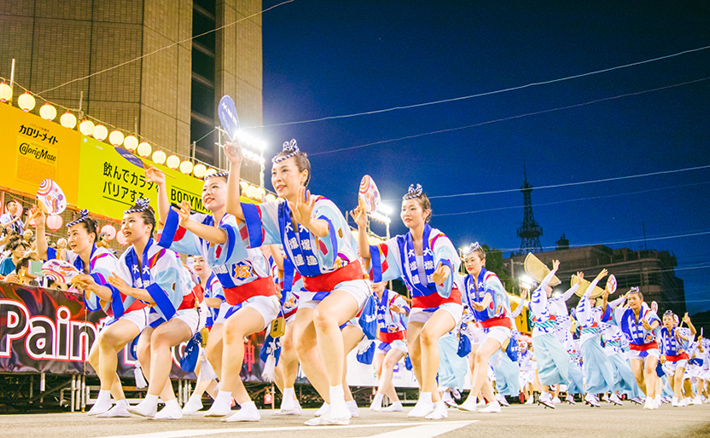 As a company with its origins in Tokushima, we are keen to promote traditional Tokushima culture, and the most well-known aspect of Tokushima culture has to be the Awa Odori. Boasting 400 years of history, the Awa Odori is the most famous of many dance festivals held across Japan. At Awa Odori events, each team is known as a "ren," and every year, four rens from the Otsuka group join the festival. The first is the Otsuka ren, which consists of more than one hundred workers from Otsuka Pharmaceutical. The second is the Otsuka Uzumaki ren, which inherited its name from the oldest ren from Naruto City, and consists of members from Otsuka Pharmaceutical Factory. The third is the Tiovita ren, from Taiho Pharmaceutical, which has a very fun and friendly spirit. Finally, taking its name from the Japanese word for 'energetic,' the Otsuka Hatsuratsu ren, which celebrated its 30th anniversary in 2016, comprises members from Otsuka Chemical, Otsuka Warehouse, and Otsuka Foods.
As well as dancing, members of the ren also play musical instruments, such as shamisen, gongs, drums, and flutes. Learning how to play these instruments, as well as coming up with new dance formations, creates new challenges for our staff—everyone takes it seriously and gives their best performance so that both participants and onlookers have a memorable experience.
An Annual Concert Held for Around 30 Years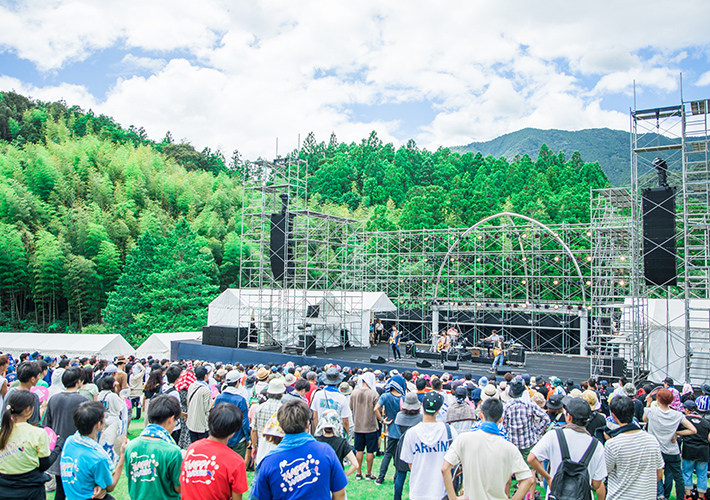 Each year during the Awa Odori season, Otsuka Pharmaceutical, with the help of local authorities, holds Exciting Summer in WAJIKI, a free outdoor concert on the premises of the Tokushima Wajiki factory. The event started in 1990, the year following the founding of the town of Wajiki (which in 2005 became incorporated into the new town of Naka), with the hope that with the help of young people from local authorities, industries, and associations, we could transform the rural community into a place where young people could come together. In 2019, around 3,500 people from all over Japan attended the concert. In addition, the Oronamin C Drink Presents Awa Odori Sound Festival, another free concert, has been held every year in Tokushima City since 1990 on the eve of the Awa Odori festival. The lineup boasts a large variety of artists and genres, and people of all ages can enjoy a delightful summer night of music.
Contributing to Local Communities through Sports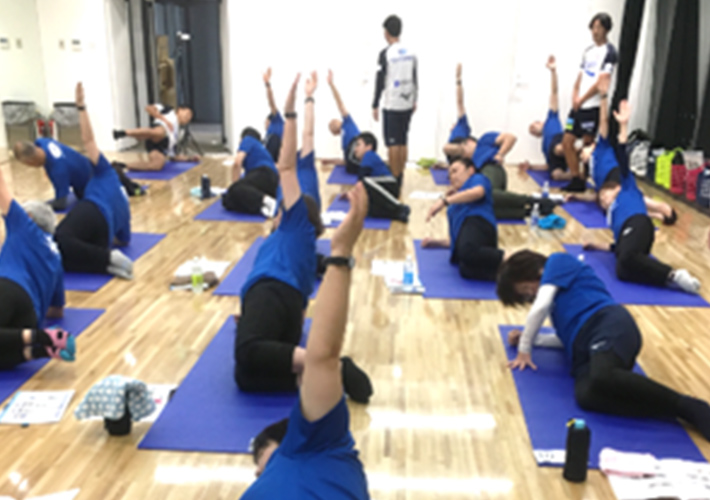 Tokushima Vortis is a J.League soccer team formed in 2004 as a way of contributing to the vitalization of the local community.
The team has its origins as the Otsuka Pharmaceutical corporate soccer team initially formed in 1955. After changing its name to Tokushima Vortis, the team was promoted to the J.League in 2005. Since 2005, the Otsuka group continues to sponsor the team and offer support by advising players on health and nutrition and by assisting with events at the team's home stadium.
Beyond playing soccer, Tokushima Vortis also works to solve issues affecting Tokushima Prefecture. Activities include soccer workshops for diverse age groups, from children to seniors. Furthermore, the team has been working with Otsuka Pharmaceutical and Mima City on a new project, the Vortis Conditioning Program, the first example of a social impact bond (SIB)* in the healthcare field involving a J.League team. Through these activities, players and coaches from Tokushima Vortis are helping local residents to maintain and improve their health as well encouraging them to take a greater interest in sport.
*Social impact bonds are outcome-based programs where private-sector funds are used for initiatives that address social issues. Local governments then later reimburse or subsidize the costs according to the program's level of success.
Established in 1990, the Otsuka Pharmaceutical Track and Field Club sends athletes to represent Japan at international championships. In addition to their participation in training sessions, club members contribute to the local community by holding track and field workshops. Furthermore, since 2016, with the help of the Tokushima Track and Field Association, the club has held the Tokushima Athlete Meeting, which aims to encourage and support junior athletes in Tokushima Prefecture.
These are just a few examples of the wide range of sports-related projects that the Otsuka group continues to support as part of its contribution to the development of local communities.